TERENCE CRAWFORD VICTORY PARADE & CELEBRATION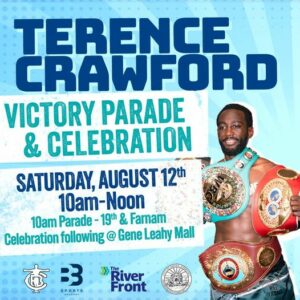 The City of Omaha proudly presents a Victory Parade and Celebration for Terence "Bud" Crawford, the undisputed welterweight champion of the world, on Saturday, August 12th, 2023. This momentous event will take place from 10:00 a.m. to 12:00 p.m. in Downtown Omaha concluding at the Gene Leahy Mall at the Riverfront, honoring the remarkable achievements of one of boxing's greatest icons and Omaha's Own.
Terence "Bud" Crawford, a North Omaha native, has proven himself as an unstoppable force in the boxing world and a dedicated community leader. With his unparalleled skill, determination, and unwavering spirit, Crawford has risen to the top, capturing the hearts of fans around the globe. As he emerges victorious as the first undisputed world champion in multiple divisions, the City of Omaha is honored to celebrate his historic career.
"Let's celebrate Terence together for his outstanding achievements as a world champion and coach and mentor to the youth at B & B Sports Academy," said Mayor Jean Stothert. "His genuine interest in the young people of Omaha shows his real strength is preparing the next generations for success. The City is proud to create this event that honors him and that everyone can participate in."
The day will begin with a victory parade at 10 a.m. on Farnam Street from 19th & Farnam and ending at Gene Leahy Mall for a celebration. Fans are encouraged to line the parade route to show their support for Team Crawford. The parade will conclude at Gene Leahy Mall with a celebration filled with excitement, entertainment, and heartfelt tributes to Crawford's remarkable journey. The event will feature special guests, city officials, and community leaders who will come together to honor the champ, his team, and the contributions he is making to the youth in our community.
Park Omaha will provide free parking in three city garages, Park 1 at 15th & Douglas, Park 5 at 19th & Capitol, and Park 8 at 12th and Capitol. All parking meters in downtown Omaha will be free on August 12 until 1:00 p.m. The public parking garage at 19th and Harney will also be free Saturday morning.
The City of Omaha extends an open invitation to boxing enthusiasts, sports fans, and the general public to join this momentous parade and celebration. Together, we will celebrate Crawford's journey, victories, and the legacy he is building as one of the greatest champions of our time.